Hello, my name is Louise Kirby, I am a designer + illustrator based in Dundee, Scotland.  I create my own collections of products and work to commission.

I'm obsessed by making patterns and I love how imagery and pattern work together, it can clash in a good way! My decorative style retains hand drawn qualities that adds character to a place or object, there's often a few wonky lines.  
My latest illustrated collection is called Dundee Delights which celebrates some of the delicious delicacies and iconic places in and around Dundee.  The collection is in The Worlds Favourite Colour of Marrs Green and Sunshine Yellow to capture the positive direction of the city and hey we are the sunniest city so they say!  I wanted to create an inspiring collection for locals and tourists which would give a fresh and positive perspective on the city.  Creating mementos of Dundee for people to share, spread the love and make others smile.    
I also work to commission to help businesses or organisations tell their story and capture the essence of their brand.   Artwork that can be applied to allsorts of products such as illustrations for brochures, flyers, social media campaigns, company branding on their headed paper to fleet of vans.  I've licenced artwork for bags, scarves, packaging and created bespoke wall hangings and murals for site specific spaces. 

I get to the heart of client's needs by listening to, and discussing the brief, allowing me to visualise and create delightful designs. I have 18 years design experience. I graduated from Duncan of Jordanstone College of Art and Design in 1999 with a Bdes Hons Degree in Printed Textiles Design.

If you would like to know more about what I can do for you, or if you would like to collaborate, commission or licence my artwork please get in touch hello@louisekirby.com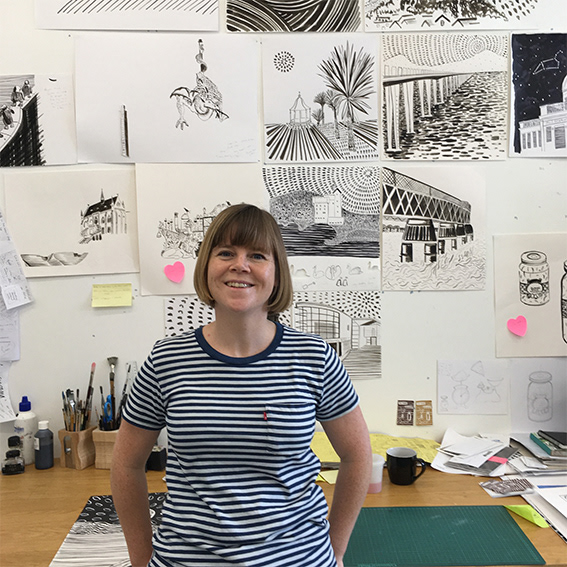 Dundee Contemporary Arts, Pretty Fly, VisitScotland Dundee, The McManus Galleries.

Dundee Design Festival, Goodfellow & Steven, Urban Quarters, Dundee Contemporary Arts,  Anthropologie, Dundee Independent Advocacy Support, Flora Gardening, Forbes of Kingennie, Angus Council Schools & Learning, The Wine Press, Sunflower Rooms, Etro, John K
al
dor Fabricmakers Ltd, Nougat, David Lee Design Ltd, Debenhams, East, Talbots, Echo, Royal Academy of Arts and Creative Dundee.
Provide freelance design services creating bespoke artwork for products and services – the possibilities are endless! From a one design to a full collection.  Artworks can be applied to all types of markets: Gift, Paper Products, Editorial, Wall Décor, Fashion + Interior Fabrics, Advertising, Wall Hanging or Murals for interior spaces.
Benefits of working with me
Friendly, approachable, positive, reliable and easy to work with the passion and creative skills to fulfil client's needs and exceed expectations.
Taking a seed of an idea and making it into reality. 
Enhance spaces, products and brands adding value and creativity.